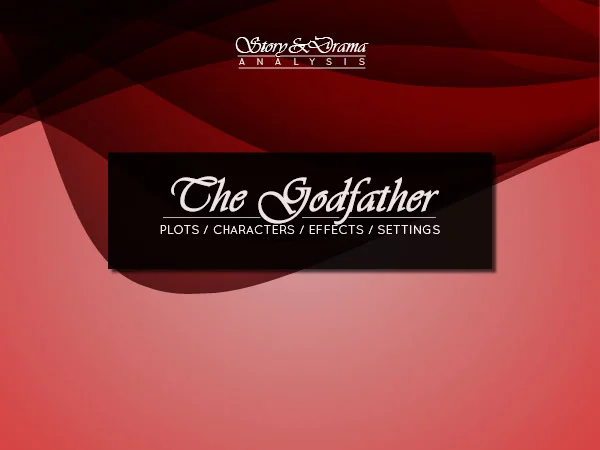 PDF, 89 pages
This page is an abstract from our full analysis of The Godfather, one of the most appreciated movies ever and a masterwork of scriptwriting.
Sequence 7. Michael falls in love in Sicily. 93-102
Cross-fade on the bright, sunny scene. Three men walk across the countryside in Sicily as the Godfather theme plays. The men, are Michael escorted by two bodyguards – Fabrizio and Calo – each of whom carry rifles. They're all dressed in a Sicilian way.
Progressive exposition of the new situation of Michael.
A man drives up alongside them, stops, and warns them not to go too far. He's Don Tommasino. He tells Michael that it's dangerous. According to Sonny your enemies know you're here, you should go back home, he says.
This information will come back in our mind during the conclusion of this plot. Then, we'll know we had been warned from the very beginning!
Michael asks whether Sonny knows when he might return to New York, but Tommasino answers it's too early. Before leaving, Tommasino asks Michael about where he plans to go. Michael answers: To Corleone.
Return to the sources! And it's the set up of the murder of his grand-father's assassin, Vito's father, whose story will be told in The Godfather II. Thus this sequence takes a multiple function: to hide Michael, make him find love, but also, put him in the line of the personal story of this father to who he is going to succeed like a king succeeds to another king.
Michael and his two guards continue their walk in the countryside. Fabrizio wants Michael to tell him about New York. He heard Michael was a "big shot", Michael modestly answers he is simply the son of a big shot.
For the second time, we receive information of ill omen for Michael: at least one man knows who he is and where he is, whereas he's supposed to be hiding…
Further, Michael, Fabrizio and Calo, meet a group of maids, and one of them – is Apollonia – stops and stares at Michael. The two stand transfixed: love at first sight.
Catalyst of their love story. Goal: obviously, get closer to that woman.
Love at first sight: a very old cliché… that still works. Due to the universal phenomenon of identification, a major part of the audience feels at this moment the charm of passion.
Calo comments: In Sicily, women are more dangerous than guns.
…
Did you enjoy it? Want to know more? Then read the full script analysis of Francis Ford Coppola's The Godfather and improve your scriptwriting skills